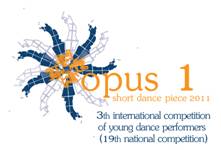 Following 16 successful national competitions of young dance performers, in the year 2009 we expanded the event to the international level.
The aim of the competition is to promote contemporary dance and discover fresh talents from all over the world.
The 3rd International Competition of Young Dance Performers OPUS 1 – short dance piece 2011 (Celje, Slovenian National Theatre Celje, 11th June at 7 pm) is open to dancers born between 1987 and 2002:
Original dance piece/solo dance piece which is both conceived and choreographed by the performing dancer
Choreography for one or two performing dancers. The piece can be choreographed by one person or authorship can be shared.
The organiser of the competition publishes a topic every year that the young dance performers must use as a basis for their short dance piece.
TOPIC: FUSION
To fuse means to blend, merge, join, unite, melt different elements. This year's topic wants to ignite fusion, the merging and joining of seemingly incompatible elements – both formal and contextual – into a new form, a new feeling, a new message.
Age groups and lengths of short dance pieces:
Group A1 (born between 2001 and 2002) – maximum 2 minutes;
Group A2 (born between 1999 and 2000) – maximum 2 minutes;
Group B (born between 1995 and 1998) – maximum 2.5 minutes;
Group C (born between 1987 and 1994) – maximum 3.5 minutes
The jury is composed from three renowned international dance experts.
The prizes shall be awarded for the best short dance piece (group A1 and A2: EUR 100, group B: EUR 400, group C: EUR 800); the best concept (group A1 and A2: EUR 50, group B: EUR 200, group C: EUR 400); and the best dance performance (group A: EUR 50, group B: EUR 200, group C: EUR 400).
The deadline for applications is 16th April 2011.
The application form must be sent to: Republic of Slovenia Public Fund for Cultural Activities, for "OPUS 1", Štefanova 5, PO Box 1699, 1000 Ljubljana, Slovenia, by 31st March 2010 or be in the mail on that day at the latest. Please note that participation will only be possible if a correctly filled out application form that includes a description of the piece's concept and a video of the short dance piece on a DVD are sent on time.
The jury will select the competitors on the basis of the received videos of the pieces. The selection shall be published on the http://www.jskd.si website by 6th May 2011 at the latest.
The selected competitors shall also be notified individually.
Please make sure that you read the rules and instructions and follow them to the letter.
More information, photographs and videos of previous national competitions can be seen at: http://www.jskd.si
General information and contacts:

Republic of Slovenia Public Fund for Cultural Activities (JSKD)
Štefanova 5, PO Box 1699, 1000 Ljubljana
Nina Meško
Tel.: 00 386 (0)1 24 10 522
Fax: 00 386 (0)1 24 10 510
E-mail: nina.mesko@jskd.si