Prireditve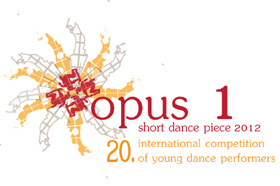 OPUS 1 – SHORT DANCE PIECE 2012
20th INTERNATIONAL COMPETITION OF YOUNG DANCE PERFORMERS
Slovenian National Theatre Celje, 9th June 2012
The jury was composed from three renowned international dance experts:
SNJEŽANA PREMUŠ (president)
TANJA ZGONC (member)
JOHN TAYLOR (member)
Snježana Premuš completed her studies at LCDS, Master Degree in choreography in 1998. Since then she cooperates with several international artists (E.Claid, Lisa Nelson, M.Tompkins, I.Kovač, V.Globokar etc..). As a dancer she dances with Yelp Co.. (London-Athens), Elena Alonso (Berlin, Madrid), En Knap, M.Bučar, Betontanz (Slovenia). She develops her project in the direction of interactive multimedia performances and performances focusing on the body.
Tanja Zgonc has been creative as choreographer and dancer for 31 years and has been widely recognized on the dance scene at home and worldwide. She created 16 dance shows and received numerous awards. She worked with numerous acknowledged theatre directors in Slovenia and abroad and created choreographies/ theatre movement in more than ninety theatre plays. Recently, she has been acting as professor for movement at the Academy for Theatre, Directing, Film and Television in Ljubljana for several years.
John Taylor is a dancer, teacher and choreographer with a BA in Theater Studies from the College of William and Mary. John received the Silver Dance Prize from the VSCD in 1992. He was chair for the advice commission for dance projects of the Amsterdam Fund for the Arts. As a teacher he has worked for companies like Rosas and DV8 as well as schools ranging from the Laban Center to CodArts to Arnhem, and since 1993 on the faculty of the MTD Theaterschool Amsterdam.
REZULTATI / RESULTS
Skupina / Group A1 (rojeni med / born between 2002-2003)
Najboljša miniatura v celoti / The best short dance piece:
KD Qulenium Kranj
RADOVEDNA JERCA / CURIOUS JERCA
Avtorski soloples / Original solo dance piece: Jerca Gril
Mentorica / Mentor: Saša Lončar
Najboljša ideja / The best idea:
Konservatorij za glasbo in balet Ljubljana
ZAFUCLANA PREJICA / KNOTTY YARN
Ustvarjanje in ples / Choreography and dance: Alma Mimi Arnold and Brina Lekše
Mentorica / Mentor: Jana Kovač Valdés
Najboljša plesni izvedba / The best dance performance:
Konservatorij za glasbo in balet Ljubljana
COP-PLENK-ŽVENK / THUMP-CLINK-CLANG
Avtorski soloples / Original solo dance piece: Neža Vadnjal
Mentorica / Mentor: Jana Kovač Valdés
Nagrada generacijske komisije / Award of Generation Jury:
Konservatorij za glasbo in balet Ljubljana
MOJ DEŽNIK / MY UMBRELLA
Avtorski ples / Original solo dance piece: Maja Hlebš
Mentorica / Mentor: Jana Kovač Valdés
Skupina / Group A2 (rojeni med / born between 2000-2001)
Najboljša miniatura v celoti / The best short dance piece:
KD Qulenium Kranj
ŠKRAT LITERAT / WORDSMITH IMP
Avtorski ples / Original solo dance piece: Gea Bešter
Mentorica / Mentor: Saša Lončar
Najboljša ideja / The best idea:
- ni podeljena nagrada, zato podeljeni dve nagradi za najboljšo plesno izvedbo
Najboljša plesni izvedba / The best dance performance :
Harlekin-društvo za umetnost plesa Celje
OSKAR / OSCAR
Ustvarjanje in ples / Choreography and dance: Špela Jezovšek
Mentorica / Mentor: Ana Vovk Pezdir
in
KD Qulenium Škofja Loka
SKRITI PREHODI / HIDDEN PASSAGES
Avtorski ples / Original solo dance piece: Nejc Vene
Mentorica / Mentor: Mateja Tuta
Nagrada generacijske komisije / Award of Generation Jury:
Konservatorij za glasbo in balet Ljubljana
MNOGOBITNI NAPOJ VS ČARMELADA / PROTEAN TONIC VS CHARMELADE
Ustvarjanje in ples / Choreography and dance: Dora Pestotnik Stres and Ana Marinko
Mentorica / Mentor: Jana Kovač Valdés
Skupina / Group B (rojeni med / born between 1996-1999)
Najboljša miniatura v celoti / The best short dance piece:
KD Qulenium Kranj
UMBAUMČIZEM / UMBAUMCISM
Avtorski ples / Original solo dance piece: Filip Štepec
Mentorica / Mentor: Saša Lončar
Najboljša ideja / The best idea:
KD Qulenium Kranj
MAzMa – EP / MAzMa - EPIC
Ustvarjanje in ples / Choreography and dance: Maja Medved and Zala Erznožnik Podreka
Mentorica / Mentor: Saša Lončar
Najboljša plesni izvedba / The best dance performance :
Plesni forum Celje
DEKLICA Z ŽALOSTNIMI OČMI / THE GIRL WITH SAD EYES
Avtorski soloples / Original solo dance piece: Kaja Vajdetič
Mentorica / Mentor: Gordana Stefanovič Erjavec
Nagrada generacijske komisije / Award of Generation Jury:
Plesna radionica Ilijane Lončar, Croatia
ČUDOVIŠTE U MENI / MONSTER INSIDE ME
Avtorski soloples / Original solo dance piece: Jakov Gugić
Mentorica / Mentor: Ilijana Lončar
Skupina / Group C (rojeni med / born between 1988-1995)
Najboljša miniatura v celoti / The best short dance piece:
Noriko Nishidate
HANA UTA
Avtorski ples / Original solo dance piece: Noriko Nishidate
Najboljša ideja / The best idea:
Plesna izba Maribor
OSTRO IN SLANO / SPICY AND SALTY
Avtorski soloples / Original solo dance piece: April Veselko
Mentorica / Mentor: Vlasta Veselko
Najboljša plesna izvedba / The best dance performance:
KD Qulenium Kranj
ČE SEM TO KAR SO ONI MENI / IF I AM WHAT THEY ARE TO ME
Avtorski ples / Original solo dance piece: Alja Ferjan
Mentorica / Mentor: Saša Lončar
Nagrada generacijske komisije / Award of Generation Jury:
KD Qulenium Kranj
ČE SEM TO KAR SO ONI MENI / IF I AM WHAT THEY ARE TO ME
Avtorski ples / Original solo dance piece: Alja Ferjan
Mentorica / Mentor: Saša Lončar
in
SVŠGL – Umetniška gimnazija, smer sodobni ples
PESNIK, 032 / POET, 032
Ustvarjanje in ples / Choreography and dance: Julija Pečnikar and Žigan Krajnčan
Mentorica / Mentor: Kaja Lorenci
General information and contacts:
Republic of Slovenia Public Fund for Cultural Activities (JSKD)
Štefanova 5, PO Box 1699, 1000 Ljubljana
Nina Meško
Tel.: 00 386 (0)1 24 10 522
Fax: 00 386 (0)1 24 10 510
E-mail: nina.mesko@jskd.si