| | | |
| --- | --- | --- |
| | | 31st Winter Dance School 2016 |
| | | Maribor, Karantena |
| | | 19–22 February 2016 |
| | | Simon Wehrli, Miloš Isailović, Kjara Starič Wurst, Saša Lončar, Maša Kagao Knez, Tina Valentan |
| Deadline: | | 12 February 2016 (discount price!!!) |
31st Winter Dance School 2016 in Maribor

Organised by: JSKD OI Maribor branch and ZKD Maribor

TOP DANCE WORKSHOPS AND PERFORMANCES!

The Winter Dance School (WDS) is the longest-running as well as amongst the biggest and most important intensive educational dance workshops in Slovenia.
This year will already see the workshop's 31st iteration, which will offer intensive daily workshops for various dance techniques and styles from 19th to 22nd February 2016. You will be able to upgrade your knowledge and skills with visiting domestic and foreign teachers: Simon Wehrli, Miloš Isailović, Kjara Starič Wurst, Saša Lončar, Maša Kagao Knez and Tina Valentan.
You will also have a chance to indulge in shiatsu massage with Tina Dobaj.
You are moreover invited to dance performances on Saturday and Sunday organised by the Nagib and Plesna izba Maribor societies. On the last evening, WDS participants will perform their final performance in the UNION hall, presenting their newly-gained knowledge to each other, chat in a relaxed atmosphere and receive their WDS participation certificates.
WDS is meant for dancers, educators, choreographers and all who are actively involved in dance and movement. We have added a workshop for mentors of dance education for children to the existing dance workshop for children. The mentor programme will be carried out on two levels: basic for beginners with some previous knowledge and a more advanced one for return participants and professionals.

Let's have fun together in Maribor!
The 31st Winter Dance School will take place from the 19th until the 22nd of February 2016 in Maribor's Karantena under the auspices of the Republic of Slovenia Public Fund for Cultural Activities, Maribor Branch Office and Association of Cultural Societies Maribor. It is recommended for dancers, dance mentors, choreographers and everybody who is actively involved with dance and movement. Workshops are open to all age groups, to amateurs, professionals or anyone in between. Children between 6 to 8 years can join a creative dance workshop for children. The concluding performance to show what the participants have learnt at WDS is scheduled for the last evening. You are also invited to come and see dance performances.

WORKSHOPS AND TEACHERS
CONTEMPORARY DANCE - Simon Wehrli (Switzerland)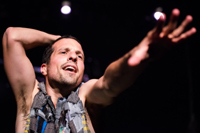 Simon Wehrli studied physical theatre at Scuola Teatro Dimitri (Verscio, CH) and contemporary dance at Trinity Laban (London, UK). Collaborates as dancer, actor and musician in different projects in Europe and the USA. He worked with Judith Sanchez Ruìz (New York, USA), Lizzi Kew-Ross (London, UK) and David Zambrano (Brussels, B), amongst others. He is a funding member of the Swiss-based Collettivo Spettatori movement theatre and the dance-improvisation project 50collective. Several tours have taken him through Europe, Africa and the USA. In 2010 he was selected to participate in the "50 Days of Flying Low and Passing Through Costa Rica" led by David Zambrano.
Since 2009 Simon has been teaching dance technique and improvisation internationally as well as developing his own work.
Contemporary dance technique - Flying Low
Making use of spirals and curves this class explores mainly the relationship of the mover with the floor / the ground. By learning specific movement material the participants work with principles of expansion, cohesion and gravity. The goal is to remain calm also in moments of high intensity and to find order in chaotic states / propositions. To maintain the balance between active and passive. Between inside and outside. Eventually the proposed form becomes a vehicle towards more freedom in movement. This class is based on David Zambrano's flying low technique.

Improvisation / research class - Upon actuality
Departing from physical tasks this class explores what it means to be fully in the present moment. Working on awareness of time and space the participants access different movement qualities and start like this to act upon actuality. The invisible becomes visible and imagination becomes reality.
CONTEMPORARY DANCE WORKSHOP – Miloš Isailović (Serbia)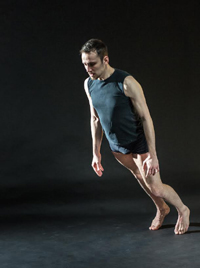 Miloš Isailović is a dancer with considerable scope. He received a grant to study at the prestigious Ballet Academy in Zürich as a talented ballet pupil of the Lui Davico school. He has been a permanent member of the National Theatre Belgrade since 2009 and a dancer in the Bitef Dance Company. He has taken part in numerous ballet performances with the National Theatre Belgrade as well as performed in various dance and theatre shows with the Bitef Dance Company. He has cooperated with famous names in the world of dancing, including Jiri Kylian, Edward Clug, Maša Kolar, Zoran Marković, Lidija Pilipenko and Vladimir Logunov. He is currently dancing at SNG Maribor and serves as Clug's assistant choreographer.
Miloš has received numerous awards and recognitions at dance competitions in Europe.
He started teaching contemporary dance technique in Ris dance studio in 2012 and won a modern ballet choreography award at the Dance Fest in Novi Sad (Serbia). He has been a successful and widely travelled dance teacher since 2014 (Croatia, Slovenia, Macedonia, Romania, Poland, the Czech Republic and the USA – New York). In 2015 Miloš became a modern dance educator at NFI ("National Foundation for Dance – Aja Jung"), created the Dunjaluk performance as a choreographer/producer in coproduction with Bitef Teatar/Bitef Dance Company and acted as dancer and Edward Clug's assistant in the performance of Peer Gynt by the Slovenian National Theatre (SNG) Maribor.
We will begin our workshop by warming up with pilates exercises, a very useful form of physical warm-up. We will continue with contemporary dance technique, acquired from own experience and based on fluid motion and breathing alongside a synchronisation of breathing and exercise. My choreographic endeavours stem from my long-term stage experience. We will work in visualising individual steps, inspired by real-life situations as well as dramatic gestures arising from such situations. Choreography requires immense mental and physical readiness.
CONTEMPORARY BALLET – Kjara Starič Wurst (Italy)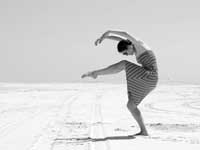 Kjara Starič Wurst is a choreographer, educator and artistic director of Kjara's Dance Project. She completed ballet studies in Ljubljana and has also been intensively upgrading her knowledge of modern dance techniques. She danced in SPP under the leadership of Fred Lasser and collaborated with numerous choreographers in Slovenia and America. In 2010 she founded Kjara's Dance Project and successfully carried out performances Odtisi, Compassion and Razpotja. She has received many awards for her choreographies at various ballet and modern dance competitions both in Slovenia and abroad. She's a member of the jury at the International Ballet Competition in San Remo, Torino (Italy) and in Pula (Croatia).
She currently lives and works in Milan, where she choreographed for the Triennale di Milano, was presented at the La mente artistic festival, where she closely collaborates with Ariston Proballet Company in Milan and the Centro Arte Danza where she teaches.
Kjara's workshops combines technically stylized classical ballet, broken lines of contemporary ballet and the softness of contemporary dance. Through the suggestiveness of everyday movement and vulnerability, Kjara is always looking for the greatest possible humanity and narration in dancers. With Kjara you will get the opportunity to train the precision in execution of movement, interpretation of choreography and the volume that the body can occupy. You will get a chance for a full dance-out accompanied with various types of music in the background. You can choose between intermediate and advanced level.
CREATIVE DANCE WORKSHOP FOR CHILDREN  
– Saša Lončar (Slovenia)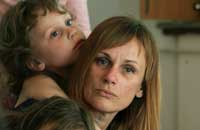 Saša Lončar is a renowned dance educator and choreographer, founder and artistic director of KD Qulenium in Kranj and Ljubljana. Every year she organises a Festival of Stage Arts Kalejdoskop and a research and creative summer camp for the young at Mašun. Through her creative processes, imbued with vivid imagination, openness, daring and excellent leadership sense, she stimulates children's dance creativity and enriches their personal expression of movement. She and her dancers take part in numerous important events and festivals at home and abroad (France, India, Croatia, Denmark, Serbia). She has received the Meta Vidmar award for her artistic and educational achievements.
Dance workshop for children "Two who Fly and One who is Barefoot – Seize the Moment"
The dance workshop for children (aged 6 to 8) will employ a method of the moment to research their primary movement. This will serve as the basis for their future path in creating movements, tailored to their age and abilities of the little artists in the group. Mentors can attend the workshop.

Mentors' workshop, which follows the children's one, is based on talk and practical activities. It offers a chance to upgrade what was seen and develop the creative process. Questions and comfortable gear to roll on the floor are required…
AFRICAN - CONTEMPORARY DANCE – Maša Kagao Knez (Slovenia)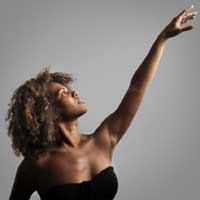 Maša Kagao Knez is a dancer, choreographer and theatre artist. She has studied with numerous mentors at home and abroad. In 2006 she graduated from The School of Georges Momboye in African traditional and contemporary dance in Paris and in 2013 from the Academy of Dance in Ljubljana. As a dancer, actress and choreographer she is involved with both institutional theatres and independent producers. In 2009 Maša, together with dancer Dalanda Diallo and musician Damir Mazrek, co-founded the Baobab Cultural and Arts Society, which operates in the field of dance, music and theatre. Since 2015 she has been the artistic director of Institute 25 and manages the Dance Studio XXV, as well as creates dance performances. Her last in a series of many successful shows was created in 2015 and called MOMENTUM, Avenue captured moments. In 2013 she received the Ksenija Hribar dance award.
African - Contemporary dance
Maša's choreographic and pedagogical work is based on connecting contemporary dance techniques with West African dances.She focuses on exploring different qualities.She is interested in how to stimulate dancers in order to achieve various possibilities of dance expression, with the help of mastering dance technique, the elements of African tradition (rhythmicity, movement motives…) and improvisation.Prior dance knowledge is a plus but not obligatory.
The class will be accompanied by drums, played by Blaž Korez, alongside Brin, Matic and Nejc Kološa.
HELLO BODY – Tina Valentan (Slovenia)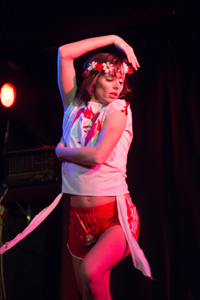 During her 30-year presence in the field of dance art, Tina Valentan has also gained the knowledge and experience of body alignment, its regeneration and rehabilitation. She is a graduate of the Amsterdam school SNDO and currently active in the following performances: Physical Manifestations, Something's in the Air, Hunting Season and Image Snatchers. More at: ski.emanat.si/tina-valentan
Hello Body is a warm up class that prepares the body for the exertions of the day in a subtle way and employing a calm tempo. It derives its subject matter from different somatic practices (Hatha, Kundalini, Partner Yoga, BMC) through which the mind connects with the body and focuses on specific anatomical relations between body parts. It is based on individual movement exploration, combined with set exercises for flexibility, fluidity and improved breathing. The class is meant for dancers who want to gain insight into the origin of movement and for all who have a desire to rejuvenate, regenerate and refresh.
ADDITIONAL OFFER
SHIATSU MASSAGE: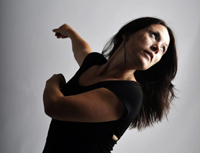 Every day, by prior appointment (Tina Dobaj, 040 818 626), Karantena, 2nd floor
SCHEDULE
| | | | | |
| --- | --- | --- | --- | --- |
| time | level | workshop | teacher | studio |
| 09.15 - 10.45 | I | contemporary ballet | Kjara Starič Wurst | studio B |
| 09.15 - 10.45 | I | hello body | Tina Valentan | studio 7/1 |
| 11.00 - 12.30 | II | contemporary ballet | Kjara Starič Wurst | studio B |
| 11.00 - 12.30 | I | contemporary dance | Simon Wehrli | studio 7/1 |
| 12.45 - 14.15 | II | contemporary dance | Simon Wehrli | studio 7/1 |
| 14.30 - 16.00 | I | improvisation / research workshop | Simon Wehrli | studio 7/1 |
| 15.15 - 17.45 * | II | contemporary dance workshop | Miloš Isailović | studio B |
| 16.15 - 17.15 + | I | workshop for children + attendance by mentors | Saša Lončar | studio 7/1 |
| 17.30 - 19.00 | I | workshop for mentors | Saša Lončar | studio 7/1 |
| 18.00 - 19.30 | II | african-contemporary dance | Maša Kagao Knez | studio B |
I – open to all levels – 90 minutes
II – intermediate and advanced level – 90 minutes
+ – workshop for children (6-8 years) and attendance by mentors – 60 minutes
* – longer workshop – 150 minutes
DANCE PERFORMANCES during WDS 2016

Saturday, 20. 2. 2016, at 8 pm – Small stage, National Hall Maribor

SENZASENSO: JAN ROZMAN

Photo: Matija Lukić
Second Season of Contemporary Performing Arts "Nagib on Stage" in collaboration with Narodni dom Maribor
Tickets: Only 2 € with the WDS 2016 identification card

Sunday, 21.2.2016, at 8 pm – Grand hall, Maribor Puppet Theatre
METAMORPHOSIS 3º: RHETORIC, Bara Kolenc and Atej Tutta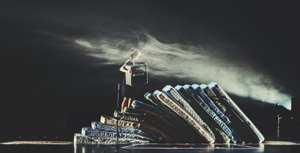 Concept and realization: Bara Kolenc and Atej Tutta
Performers: Sanja Nešković Peršin, Bara Kolenc, Rebeka Radovan
Technique sister: Jošt Pengov-Taraniš, Matej Markovič
Sister A: Andraž Zlobec
Dramaturgy: Pia Brezavšček
Sound design: Jernej Černalogar
Track rumours: Matevž Kolenc
Make-up: Anja Cojhter
Technical support: Radovan Jaušovec
Executive production: Bara Kolenc and Julia Danila
Public relations: Mojca Zupanič, Uroš Bonšek
Production: KUD Samosvoj
Co-production: Kino Šiška urban culture centre, KUD Pozitiv, Plesna Izba Maribor, Uferstudios Berlin
In cooperation with: Plesna Izba Maribor, M.I.K.K. Murska Sobota, Zavod DrMr, Uferstudios Berlin, KC Mostovna
The project is supported by the Ministry of Culture of the Republic of Slovenia, Municipality of Ljubljana Municipality of Ljubljana, Ljubljana, Slovenia - European Green Capital
Organization in Maribor: Plesna izba Maribor
Tickets: Only 3 € with the WDS 2016 identification card
Monday, 22.2.2016, at 8 pm – UNION Hall
OFFICIAL FINAL DANCE PRODUCTION of WDS 2016
All the participants will have a chance to demonstrate the acquired skills and look at what other workshops have created. The organizer JSKD OI Maribor will issue a WDS CERTIFICATE for those participants that have attended at least one workshop on all four days.
Free entrance.
FEES
PAYMENT

PAYMENT

before 10th February

after 10th February
(if still available)

1 workshop/technique

50,00 EUR

60,00 EUR

2 workshops/techniques

75,00 EUR

85,00 EUR

3 workshops/techniques

85,00 EUR

95,00 EUR

Longer workshop

60,00 EUR

70,00 EUR

Open card (unlimited)

100,00 EUR

110,00 EUR

Workshop for children (6 – 8 years)

30,00 EUR

40,00 EUR

Workshop for mentors

40,00 EUR

50,00 EUR
VAT (22%) already included in the fee. The price list is valid for 4 days of WDS.
Single class (drop in): 15 €
Each longer workshop: 20 €
You can apply on the same day if there are vacancies. Please check at the office for available places.
DISCOUNTS

20% discount on the total amount for all performers at the ŽIVA 2015 festival!
Attention! 10 % discount on the total amount for:
1. SOCIETY or CLUB, that signs up more than 5 people (application forms must be sent in one batch)
2. A family that signs up at least 2 members (application forms must be sent in one batch)
3. PROFESSIONALS with a freelancer status (copy of proof required)
Discounts cannot be combined. Discounts are applicable for those who participate in a workshop for all 4 days.
APPLICATION

A correctly filled-in application form must be sent before 10th of February 2016 to: minka.veselic@jskd.si or by post to: JSKD OI Maribor, Pobreška 20, (Karantena) 2000 Maribor, Slovenia.
After this deadline, the applications will only be possible in case of vacancies and the price will be increased by 10 €, so please check with the organizer.
Apply as soon as possible, as the number of available places is limited!
PAYMENT

After receiving your application form, we shall send you a proforma invoice that should be paid before the 12th of February 2016. After the 12th of February 2016, the fees for all workshops will increase by 10 €! If the payment is made by an institution, the application form must be signed by the person responsible and contain the institution's stamp (payment is also possible at JSKD OI Maribor).
ACCOMMODATION

Please arrange it by yourself. ATTENTION! PLEASE BOOK hostel PEKARNA as soon as possible, otherwise accommodation is not guaranteed.
Contact: Hostel Pekarna, phone: +386 (0)59 180 880, fax: +386 (0)59 180 882, hostelpekarna@mkc.si. More info: www.mkc-hostelpekarna.si.
WARRANTY

-  Each participant will receive an identification card to enter the studio.
-  We retain the right to change the contents of the programme due to force majeure
-  We take no responsibility for injuries and thefts. Please organise your personal insurance and take care of your belongings.
-  Tuition fee shall be refunded only on the basis of a letter received before the start of the WDS (19.2.2016) or on a doctor's note, received before the end of the WDS (22.2.2016)
-  Taking photographs, video recording and taking notes during classes is prohibited, unless agreed otherwise with the organizer and teacher in advance.
ADDITIONAL INFORMATION AND CONTACT

JSKD OI Maribor